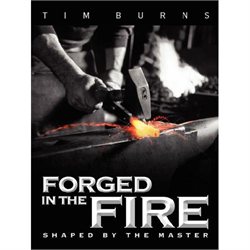 Timothy's first book, Forged in the Fire – Shaped by the Master, was published in 2004 by Hensley Publishing and is still accumulating rave reviews. The book is written as a work book, with specific material written for five days per week, for twelve weeks. The book is perfect for small groups, personal devotional time, or as text for a Sunday school class.
The premise is that God wants to do great things through you, but whether or not that happens depends upon whom you allow to shape your life. Do you insist on following your own imperfect habits and patterns, or are you willing to allow God to fashion your life into a masterpiece that bears His indelible signature?
Here are reviews from those who have spent time with God and his Word while using this book as a tool for deeper study.
"One of the best studies on leadership I have been through.  I am finishing up the workbook and it is awesome! It has truly ministered to me personally regarding leadership! I have already recommended it to several other guys in leadership! This is one of the BEST studies I have been through! God bless you for being teachable and allowing the Lord to speak in and through your life Tim."
Jerry Newton
"During our darkest hours, the study was an anchor for me.  I just completed your Forged in the Fire Bible study, and please know that it was just what I needed. My wife and I have walked through the fire in our lives over the past two years, and stumbling across your study in a Christian bookstore was God-ordained. During our darkest hours, the study was an anchor for me. The Lord used it in my life to not only heal me, but also to give me renewed strength and new hope. Thank you for your faithfulness in writing such a profound study. I look forward to your next one!"
Mike Potter
"Tim Burns has done a superb job of presenting what God requires of our Christian life. By paralleling the biblical lives and consequence of choice with today's challenges and choices, there is no room for misinterpretation. I give this Bible study a 5 out of 5 rating."
Dr. Linda Beed
"Forged in the Fire is a Biblical and carefully researched character study which I believe God will use to transform lives. Tim Burns masterfully weaves themes from four Old Testament people to point the student to a life transformed by the grace of Jesus Christ. I encourage the reader to enter into these pages with a mind that is ready to engage the scriptures, and a heart that is ready to be engaged by God."
Pastor Brad Mitchell