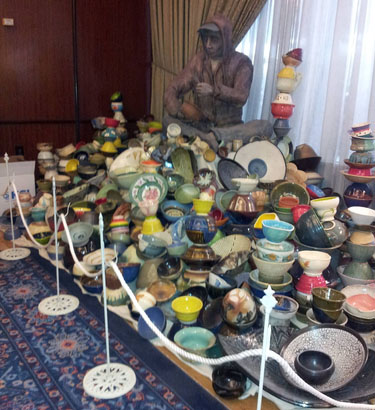 ArtPrize 2013 attracted 1805 artists from 47 countries, over 200,000 visitors, and is billed as the world's largest art competition of its type. The three-mile wide ArtPrize epicenter filled downtown Grand Rapids with nearly 2000 pieces of art. At the same time, additional venues were scattered throughout the Greater Grand Rapids. Like a painting produced by a monkey, Tempera poster paints and a bucket of sponges, ArtPrize venues dotted the city and were located in Kentwood, at Bethlehem Lutheran Church, Meijer Gardens, Arnies Bakery and more.
For three weeks, thousands of artists and visitors flowed throughout Grand Rapids in this nationally recognized art showcase. Yet as is often the case, high profile events tend to overlook those in the city who could most benefit from increased exposure and additional revenue. During ArtPrize, Grand Rapids' homeless population is almost completely forgotten, except for the many street-level assistance organizations, like DeGage Ministries and God's Kitchen.
This year, God's Kitchen and the Catholic Charities of West Michigan weren't forgotten, and one of the highest profile art pieces was dedicated to assisting this quiet ministry that labors 52 weeks a year helping the inner city's downcast and homeless. ArtPrize entry 54509 sat in the south lobby of the Amway Grand Plaza Hotel. Amongst the walnut counters, cut glass chandeliers, polished brass accents and smiling staff, a solitary man sat surrounded by pottery, bowls, plates and saucers of every color. The clay fired homeless man, John Doe, and the pile of pots was a project first conceived by Sawn Soltysiak and Connie Dinnan Cobb in 2011. The potters regularly make dishes for God's Kitchen and they wanted to create an art piece that would draw attention to the work of the Catholic Charity storefront.
The nameless John Doe was surrounded by 800 pots, cups, plates, etc of every color and size. The dishes were solicited from potters and artists across the Grand Rapids area, and they represent the diversity of God's Kitchens clients, and the hundreds of meals God's Kitchen serves each year. Mike Bermerris, one of the "Potters for the Hungry" group that organized the ArtPrize entry and a member of the West Michigan Potters Guild, said that each year a group of artists donate bowls, dishes and hand thrown tableware to God's Kitchen for their "Soups on For Everyone" event. They hoped that they would have ranked in Artprize's Top 10. Had they made the premier list, they intended to donate the $5000.00 prize money to God's Kitchen.
Despite the hard work, and their hopes, God's Kitchen wasn't voted into the competition's Ttop 10ten. Therefore, instead of receiving the money, the ministry will receive all the dishware created for the display. On Jan 27, 2014, the B.O.B. will host God's Kitchens 15th annual Soups on for All dinner and fundraiser. Filling all five floors of the urban restaurant, the event raises money for Ccatholic charities in general and for God's Kitchen specifically.
For those unfamiliar with Catholic Charities of West Michigan (CCWM), the organization provided services to over 24,000 individuals, and served over 184,000 meals last year. CCWM has four areas of outreach:
Community

outreach,

including

God's

Kitchen

and

area

food

pantries

Behavioral

Health,

including

counseling

services

for

families

and

individuals

Child

Welfare,

which

works

to

keep

children

in

safe

healthy

homes

Family

Preservation,

which

sponsors

programs

to

strengthen

family

ties

and

relationship

skills.
For more information about CCWM or God's Kitchen, or to find out how you can donate or volunteer, visit them on the web at www.ccwestmi.org,