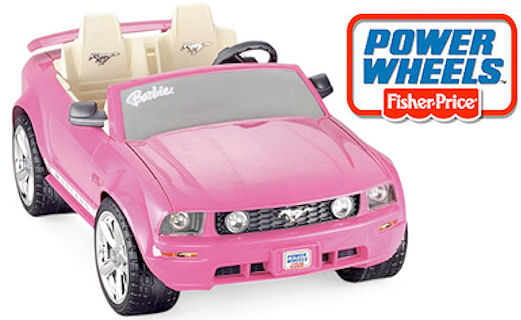 Engineering student Jake Hall, a senior at Grand Valley State University (GVSU) spent  three months of his college engineering career playing with Barbie toys. The latest addition to his work bench, the bright pink, Fisher-Price Power Wheels Barbie Car, has taken over his attention as he finishes his studies for a degree in Manufacturing Production Engineering, with a minor in bio-mechanical engineering. This Barbie Car isn't the little 14-inch plastic car made to take Barbie and Ken to their next beach party. (That would be a little weird.) This full-size version of the Barbie Car is suited to transport small children. According to the manufacture's specifications, the car is almost five feet long, weighs over 70 lbs, and is suited for children over three years of age. So what is this college senior and his partner Phil DeJonge doing playing with Barbie toys for three months?
As part of his senior year, GVSU challenges engineering students to design an engineering project which promises potential commercial applications. The university calls this their Garage Project, and students select a problem to put their knowledge into practice, and solve real-world challenges through an engineering  framework. Some of these projects are commercially viable, but most are not. These projects are often custom engineering applications, which require a small-scale customized approach, and involve significant design curve obstacles. These are the features which drew Jake and his partner to the Barbie Car.
Jake selected the Barbie Car project because of its real-world application, and because if he solved these design curve problems, he and his partner would make a real difference in the life of a very special child. The Barbie car project is designed for a young girl who has Spinal Bifida. Without the ability to walk, and one of the younger children in a large active family, this Barbie Car will give mobility to a young child, and help her move in the direction of a normal life.
According to the Phoenix Children's Hospital, Spinal Bifida is a condition resulting from when a child's nerves that are normally encased in the spinal column develop improperly. Instead of connecting the brain to nerves and muscles in the lower part of the body, some of the nerves end in a sack-like growth, outside of the lower end of the child's spinal column. As a result, the child cannot feel, and doesn't have control over the parts of the body normally controlled by the affected nerve cells. The formal title for this condition is a Neural Tube Defect (NTD). The US Centers for Disease Control says that Spinal Bifida affects each person with the condition differently, so no uniform treatments exist. Some of those with the condition, with the proper support, go on to enjoy normal and productive lives. Designing and providing support is the goal of Hall and DeJonge's project.
The two are working to fit the battery powered, motorized car with a control joystick that the young girl can use, and an integrated remote control that will also control the car's movements. One of the design curve problems includes integrating the electronics so that both of the controls work without conflicting with each other. Another project challenge involves adapting the manufacture's motors and battery to give the child a "soft start" feel when the car initiates movement. Usually found in high voltage motors in industrial settings, a soft start feature will allow the car to begin to move smoothly, rather than jerking from a standstill to a full speed motoring.
Jake undertook this project because he feels called to use his gifts and his Christian faith to make a positive impact on the lives of those around him. He was motivated by a bible passage.
As each one has received a special gift, employ it in serving one another as good stewards of the manifold grace of God. Whoever speaks, is to do so as one who is speaking the utterances of God; whoever serves is to do so as one who is serving by the strength which God supplies; so that in all things God may be glorified through Jesus Christ, to whom belongs the glory and dominion forever. (1 Peter 4:10-11)
During our interview, Jake said that when he read these verses, the words "serving the people" seemed to jump off the page. Through his education, and this project, Jake feels that he is following God's call. He is using his unique gifts to build God's kingdom by serving the people. In the future, Jake wants to start a Not-for-Profit business so he can tackle more production and manufacturing problems like this one. Making the life of one young child may not make the to-do list of a large corporation. Jake believes he can use his gifts and serve others on a smaller scale with solutions that help the "least of these" in our society.